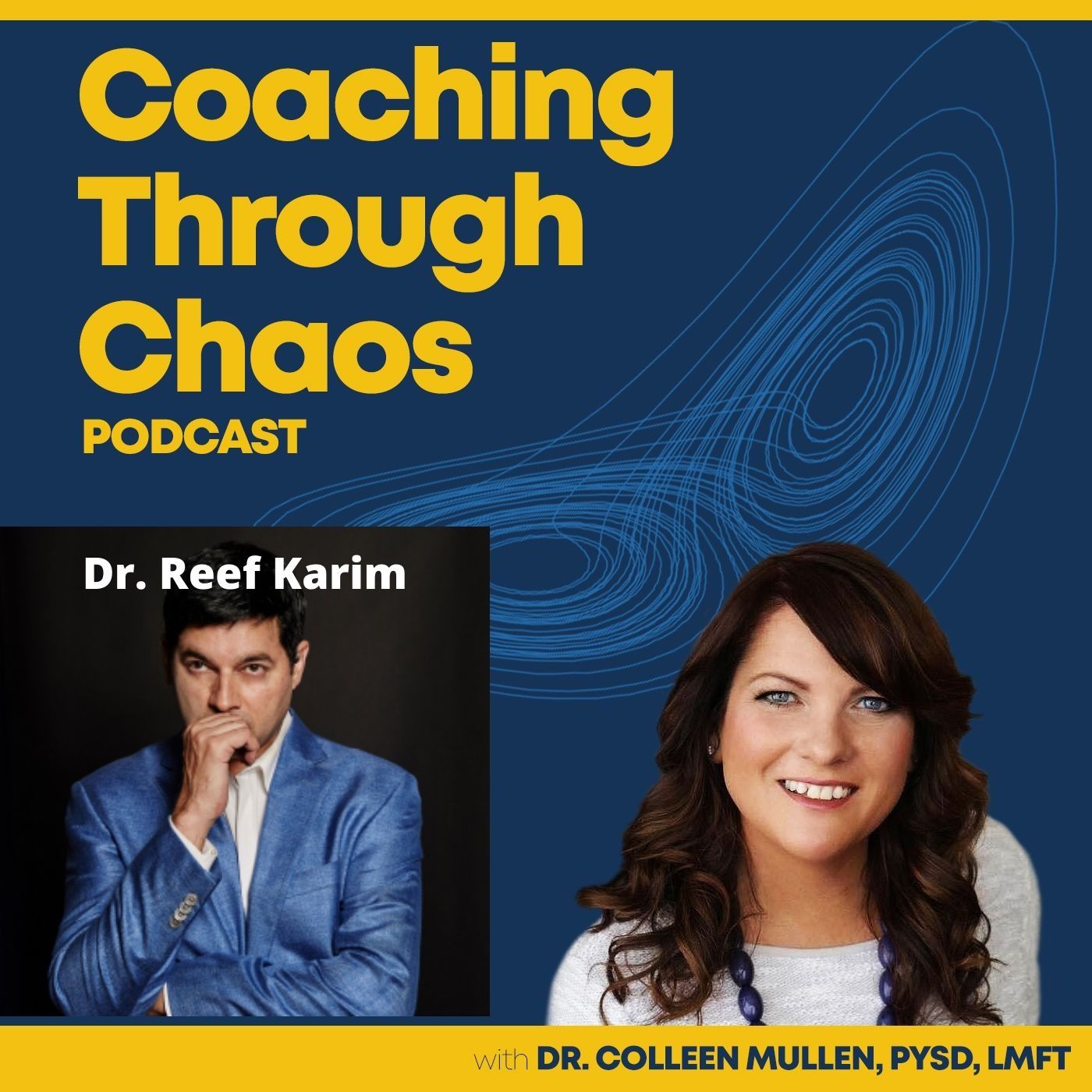 Anxiety, lonliness, anger, reactivity, sadness, loss, grief, confusion, fear – these are all emotions you may be feeling as you go through life under the pandemic restrictions.  This crisis has resulted in a collective trauma – we are all in this together and we are all affected by it in one way or another.  
In my practice over the last month, I saw a defined uptick in a resurgence of my client's trauma symptoms from earlier in their lives.  I decided to do a special episode to help those in need understand this current situation through the lens of it as a trauma. 
I called in colleague, Dr. Reef Karim. Dr. Karim is a well-known neuroscientist, mental health physician and personal development expert.  You may know Dr Reef from his many appearances on Cnn, Oprah and other media outlets.  He now has a special offering to help you emotional survive this crisis – you can find his guidebook at The Crisis Manual.  On the next CTC episode, we focus on all the details of why you will want to get a copy for yourself! 
In this episode, Reef and I discuss:
How trauma affects the brain and body
How false or exaggerated symptoms may present 
Key factors in building resilience
We also cover these coping strategies (Im leaving as-is in the show notes, so that you have this as a reference if you should need it:
1. STAY CONNECTED Social distancing is NOT Emotional Distancing – reach out to others. Family/friends.  If you were not well-connected socially before, this may feel ultra isolated– find an online group for something you enjoy or an actual support group. This is also the time to actually call and talk or skype or facetime someone.  If you're feeling lonely, you can bet people you know are too.  They will appreciate the connection
2. GET FRESH AIR EVERYDAY The best thing about this is that it happened in the spring, so most every part of the country has pleasant temperatures.  Fresh air and Sunlight help us feel refreshed, energized and can help our mood.  Moving our bodies is important more now than ever because it's easy to get out of bed, get on the couch and never leave until you go to be again. Your body needs to move and you need to breath fresh air.
3. CHALLENGE YOUR THOUGHTS For every time a person says- "This is hopeless", there will be a story demonstrating a person who has overcome the illness. "I have nothing to do" – When's the last time you called someone/organized your bathroom closet/planted a new flower pot? There are things to do. The point is that your brain will want to tell you things that keep you feeling discouraged/helpless/hopeless – there is always evidence to the contrary. 
4. Get CREATIVE Amazon and all the other major stores are still delivering- now's the time to tap into that hobby you've been putting off.  Maybe youre not particularly artistic or musically inclined.  It's a great time to build something, tackle a home project you've been putting off, get crafty…. Maybe learning something new is how you get creative. Take an online course, learn a new language. Write, blog, craft, ……
5. DISCONNECT FROM THE NEWS AND SOCIAL MEDIA  limit the time you watch…..turn the tv off….take 24 hours off the phone /news…..nothing is changing in 24 hours that you cant find out when you turn it back on
6. TALK ABOUT IT AND KNOW WHEN TO TAKE A BREAK FROM TALKING ABOUT IT – whichever you need! If you haven't been talking about how you're feeling in this and just keeping a fine face, but going stir-crazy inside – its ok to call a friend and let them know you just wat to talk it through.  On the contrary – if every communication you have with everyone is about the virus and you've been on overload with the news, plan a virtual social hour with a friend with a rule that there is no talking about the virus – You will inevitably talk about things that remind you of your normal life – what you've been watching on Netflix, the puzzle you've been working on, the funny thing your kid said the other day.  Most importantly, this reminds you that there are normal experiences that are still happening all around you.
HOW YOU CAN HELP OTHERS
CALL SOMEONE YOU SUSPECT MIGHT BE ISOLATED AND FEELING LONELY
OFFER TO PICK UP GROCERIES FOR ELDERLY OR AT RISK FRIENDS/NEIGHBORS
SUPPORT LOCAL BUSINESSES THAT HAVE BEEN TEMPORARLY SHUTDOWN. GIFT CERTIFICATES OR PRODUCTS. GYMS, SALONS, MASSAGE PROVIDERS. RESTAURANTS.
FIND OUT HOW YOU CAN SUPPORT LOCAL FOOD BANKS AND SHELTERS – DO THEY NEED CERTAIN SUPPLIES/TOILETRIES – WHAT'S IN YOUR BUDGET FOR HELPING THEM. (For those of us fortunate to be working or financially stable,we are ALL spending a lot less because we are not driving/going out to eat/getting hair done- there may be funds in your bank that can give you some room to support your community in ways you don't normally have).
*IF YOU ARE STRUGGLING WITH SUBSTANCE ABUSE *
People may be struggling with substance abuse and/or being a risk of relapse in this social isolation
AA/NA groups are still being helpd online
Rehabs are still admitting new clients
Therapists are still accepting new clients
*There is help available to those in need. *
IF YOU HAVE A PRE-EXISTING MENTAL HEALTH CONDITIONS
If you know that you have pre-existing depression/anxiety/panic/bipolar or any other mental health struggle – NOW is the time to keep up sessions with your providers.  The medical professionals have been given the ability to telehealth – which means you can have a phone call/skype/zoon/facetime session- however you prefer with your therapist or psychiatrist. It is the time to keep up with your medication/treatment and things that you normally do to cope. It is also the time to reach out for added support through online support groups as you need them.
*WHERE TO FIND HELP *
The Crisis Manual .com  – This is a FREE guide to managing your emotions through a crisis.  This was developed by today's guest, Dr. Reef Karim. You can hear about The Crisis Manual in full detail in the next  pandemic-focused episode coming up in just a few days.
PsychologyToday.comfor a mental health provider in your area 
211.org –social services referral line if you are in need of inpatient or crisis house services – FOOD BANKS/housing/etc
National Suicide Prevention Talk Line –1-800-273-TALK (1-800-273-8255)*If you're feeling suicidal and want someone to talk to when it is after hours for your mental health support providers. *
Please go follow my guest- Dr Reef Karim at Instagram.com/ReefKarim or Facebook.com/DrReef or WORK WITH HIM at ReefKarim.com
*Let me know what's working for you – How are YOU staying sane through this traumatic event?  
You can reach out to me on the socials 
Facebook.com/CoachingThroughChaos
For a little light-hearted psycho-babble, make sure to check out the Shrink2Shrink Podcast wherever you love to listen. Colleen and fellow therapist, Courtney Calkins talk about love and live through one movie a month. Come and have some fun with us! 
Ladies! If you want to empower yourself or get inspired by other stories of successful women, get Dr Colleen's book: Stop Bitching , Just Lead! The 60-Day Plan for Embracing Your Inner Leader
Until next time, I do hope you are safe and are finding the assistance you may need during this time.