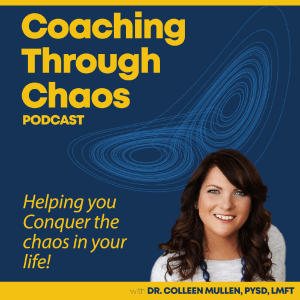 Colleen talks with Quentin about:
His own journey on becoming the father of two boys,
The similarities between BJJ and marriage.
What it means about you if you believe all your ex's are crazy.
How we can heal wounds from our childhoods through our marriage.
And…. many more great relationship tips!
If YOU want to be a husband who earns Black Belt status, or you want to find one- this episode is for you !
To follow Quentin, check out his IG: @Quentin_Hafner
To Buy the book on Amazon: Black Belt Husband
To work with Quentin: QuentinHafner.com
*********
If you are enjoying The Coaching Through Chaos Podcast, and you want to stay connected and want to chat about the episode, just follow us at Coaching Through Chaos on Facebook.
If you want to interact with Colleen more personally or stay up-to-date on her other podcasts and happenings, you can follow or friend her on:
Listen to Shrink@Shrink to learn about love and life through the movies every month.
Ladies, Listen to The Embrace Your Inner Leader Podcast every month to get empowered and inspired by unique female stories of success!
You can buy the book: Stop Bitching, Just Lead! The 60-Day Plan for Embracing Your Inner Leader
If you want to work with Colleen for personal 1:1 coaching to help you conquer the chaos in your life, just reach out through CoachingThroughChaos.com click on the Contact page.
Thanks for listening!