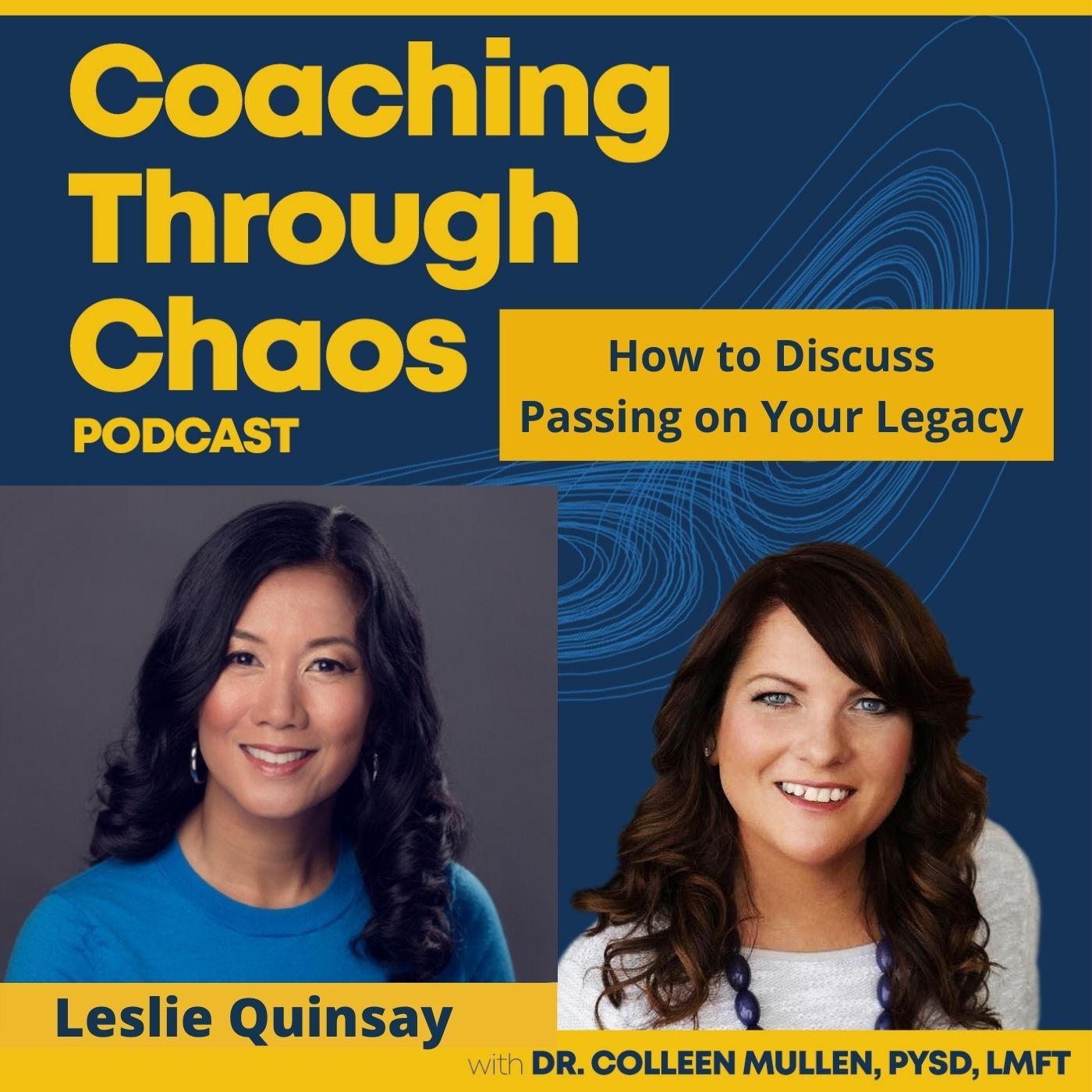 Who wants to talk abotu estate planning or leaving your legacy to your family? Not me! I want to live forever. Well, unfortunately, so did my parents, but I have no experienced both of them passing on with absolutely nothing planned for as far as their estates go. What a complicated experience, with a lot of complicated emotions! 
When I discovered Leslie Quinsay's booke, Legacy: A Guide to Successfully Transferring Wealth from One Generation to the Next,  I wish I had an opportunity to implement her guide with my parents. EVen though I missed my chance, I don't want you too – and if you've been avoiding discussing and writing down your plan for what to do about your business and other assets should something happen to you, this is your que to get on it! 
In this episode you will hear:
Leslie's personal story of how she almost lost her father- and how that health scare, forced her to explore what her father's intention was in regards to handing down the family business. 
 Lesli's  "Legacy" formula for how to open and continue the discussions around estate planning. 
What Leslie means when she says estate planning is a team sport. 
What advice Leslie gives for families where conflict arises around the estate planning  (What if you don't want to take over the family business?).
The One Ting to remember to stay motivated to get the estate planning completed. 
You can find her book on her website or on the Coaching Through Chaos Podcast Bookshelf on Amazon (#commissionsearned). 
************************************************
ANNOUNCEMENT!!!!
The Patreon Page launched Oct. 1!!! Im so excited to give you so much extra for your contribution to the show! 
Check out the 4 Reward Tiers at 
Patreon,com/coachingthroughchaospodcast.   
The Best Value is the Chaos Crusher! Tier at $9.00/m.  For your contribution, you will get access to 3 self-help audio recordings per month.  There are some other fun rewards that include an hour long Chaos Crushing Q&A with me each month and even a 20-minute coaching call with me.  I am so grateful for your support along this journey with me! 
*************************************************
If you are enjoying The Coaching Through Chaos Podcast, and you want to stay connected and want to chat about the episode, just follow me at on Facebook  ,  Instagram  or Twitter. 
For a fun take on life and love through the movies, you can join me and fellow therapist, Courtney Calkins at my other podcast   Shrink@Shrink .
You can buy the book: The 60-Day Plan for Embracing Your Inner Leader!   as well as the book of ALL the guests you've ever heard on the Coaching Through Chaos Podcast right on my Amazon Bookshelf! 
If you want to work with me for personal 1:1 coaching to help you conquer the chaos in your life, just reach out through CoachingThroughChaos.com click on the Contact page.
Keep kickin' that chaos out of your life! 
Thanks for listening!