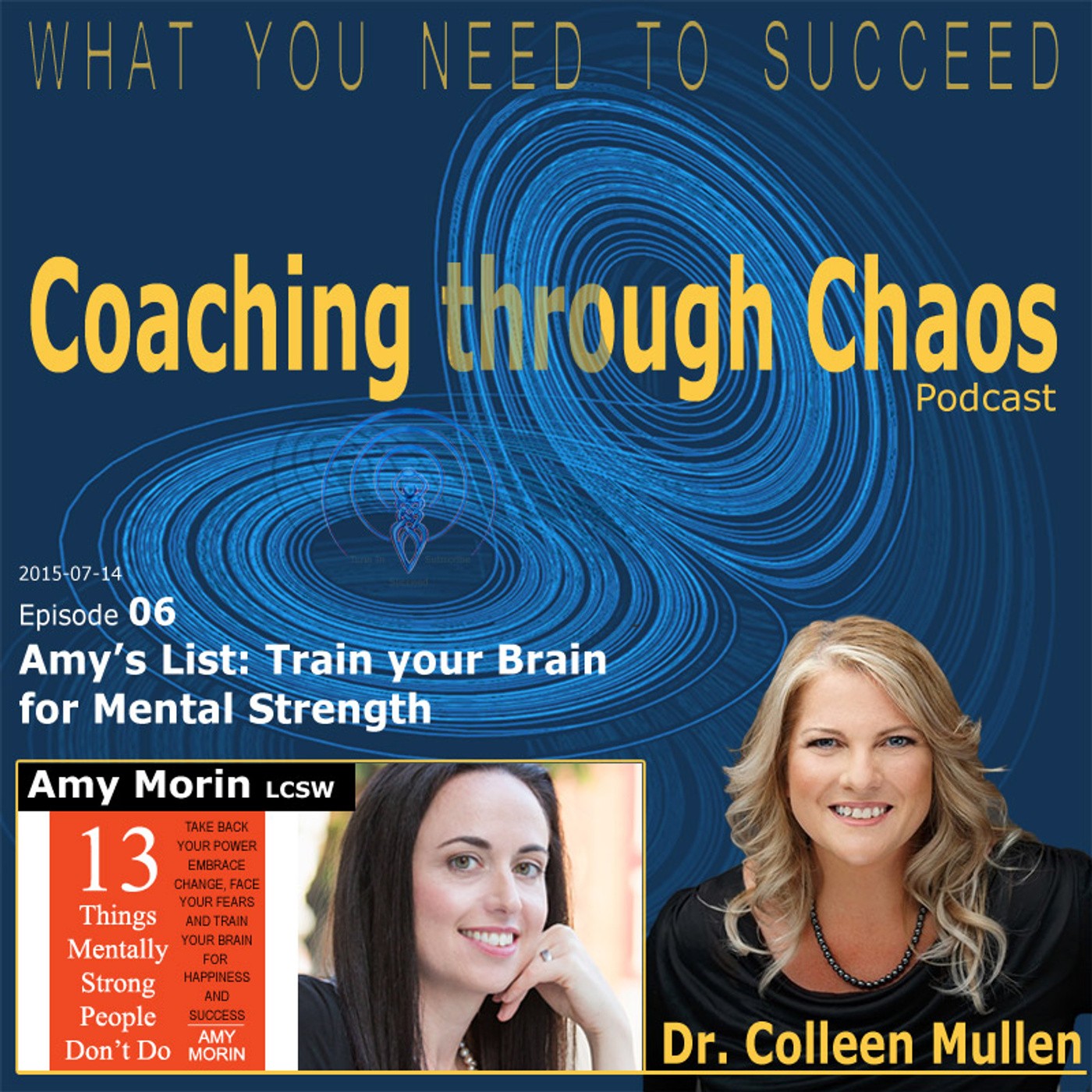 Life can throw a lot of hardships in our paths, which it seems only the mentally strong can withstand… Following tragic losses in her life, Amy Morin LCSW wrote a list to remind herself how to keep going. Shared on lifehack.org, the list went viral, then flooded Forbes. Like a beacon in the night, Amy's worldwide best-selling book, 13 Things Mentally Strong People Don't Do, gives us all simple lessons in resiliency in a world where adversity can leave us feeling isolated..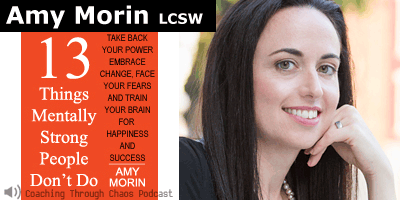 Amy's life was going along pretty well.  But, when she was 22, her mother died suddenly of a brain aneurysm.  Her mother  was only in her early 50's.  Most people aren't ready to lost their parents even if they pass away much older, but no one expects their parents to die that young. That's just not supposed to happen! Amy was healing from that though.  She was young in her career as a clinical social worker, was married and starting her life with her husband.  But then, on the 3rd anniversary of her mother's death, her 26 year old husband died of a heart attack.  What?!? As Amy put the pieces of her life together.  She found a way to honor her young husband's memory.  Every year on his birthday, she would get together with his family and  participate in life-affirming experiences.  Sometimes they  were adventurous trips, other times, they were more subdued, but they always made it fun and didn't wallow in his loss.  They found a way to see through the pain of the loss to celebrate life: his and theirs.
Then, a few years later, Amy found love again and got remarried.  She and her new husband were enjoying the early days of this marriage and looking forward to their life together.  But then, tragedy struck yet again.  This time, her new father-in-law was diagnosed with untreatable cancer. She was then faced with the anticipation of the loss of someone else she was close to – as well as the anticipation of having to help her new husband cope with the loss of his parent.  The pain she, of course, knew all too well.  This is when Amy decided she was really going to have to pull from all the mental strength she could find.
Amy initially wrote the original list of "13 Things…" for herself.  She speaks of doing it as a reminder to herself of how to successfully cope.  She was working as a therapist and was good at helping others find their mental strength, but she discovered that focusing on what to do worked for a while, but she found "not so healthy" habits creeping in to sabotage her. The list helped her understand that she would/could survive these losses. Then, she realized others might benefit from the list and this is when the list took on a life of its' own.  She posted the article on Lifehack.org (you can read it here ).  The list went viral within a few hours.  The traffic generated from the article shut the page down!   It was then re-posted on several other sites, including Forbes.com where it set a record at over 10 million views!  To this day, it is still one of their most viral posts.
It was after all this web attention, that Amy was approached by Harper Collins publishing house and asked to turn the list into a book.  So, that's exactly what she did.  The book went on to become a bestseller.  I think many people related to her story of strength and perseverance and found her advice practical and actionable.
Here is the list of "13 Things Mentally Strong People Don't Do"
They don't waste time feeling sorry for themselves,
They don't give away their power,
They don't shy away from change,
They don't waste energy on things they can't control,
They don't worry about pleasing everyone,
They don't fear taking calculated risks,
They don't dwell on the past,
They don't make the same mistakes over and over,
They don't resent other people's success,
They don't give up after the first failure,
They don't fear time alone,
They don't feel the world owes them anything,  and
They don't expect immediate results.
Amy talks of our mental capabilities as a muscle that can be exercised and strengthened.  I also subscribe to this thinking.  One of my favorite things to work on with my clients is helping them build their mental strengths, or resiliency traits.  We are all born with part of our personality predetermined by our genetics.  How the other part of our personality developed is thought to be determined by how we are nurtured.  As we are growing up, we receive certain messages about how we should or shouldn't deal with stress, upset, disappointment, as well as love, happiness and all the rest of our emotions.  Those messages are internalized and stored as fact, even if they are not in our best interest.  For instance, I learned as a child that when I am stressed out I should eat to make myself feel better, which led to a struggle with weight as an adult due to my engagement int his self-soothing behavior.  I've had to learn to fight against what fact that although not true, nor in my best interest.
Amy Morin's "13 Things Mentally Strong People Don't Do" takes a refreshing spin on how to overcome struggle and, in her case, multiple losses.  Amy's list resonates with many of us I believe because collectively we have been focusing on what "to do" or what we "should do".  When we don't "do" what we are "supposed to do to be healthy", we end up feeling like a failure. However, Amy's list focuses on "what not to do".  Such a different way of thinking! I say this because when we  twist up, say, #11. "They don't fear time alone" into the "You should do this" type of list, it becomes "They are comfortable being alone".  Somehow not fearing something feels much different than "you should be comfortable" with something.   That way of thinking can set many people up for failure.   I believe if we re-wrote the list  from the "what to do" perspective, it would start to sound like "Mentally strong people just do more then you when you are tired of trying".  Not very empowering.
Strengthening those emotional muscles to help you become stranger and more resilient takes active work.  I'll leave you with this.   The work can be tough, but if your perspective is accepting and forgiving of yourself, reminding yourself of what not to do can feel achievable.
Resources
13 Things Mentally Strong People Don't Do Amazon.com
5 Powerful Exercises to Increase your Mental Strength Amy Morin
7 Ways Mentally Strong People Handle Stress More Effectively Amy Morin