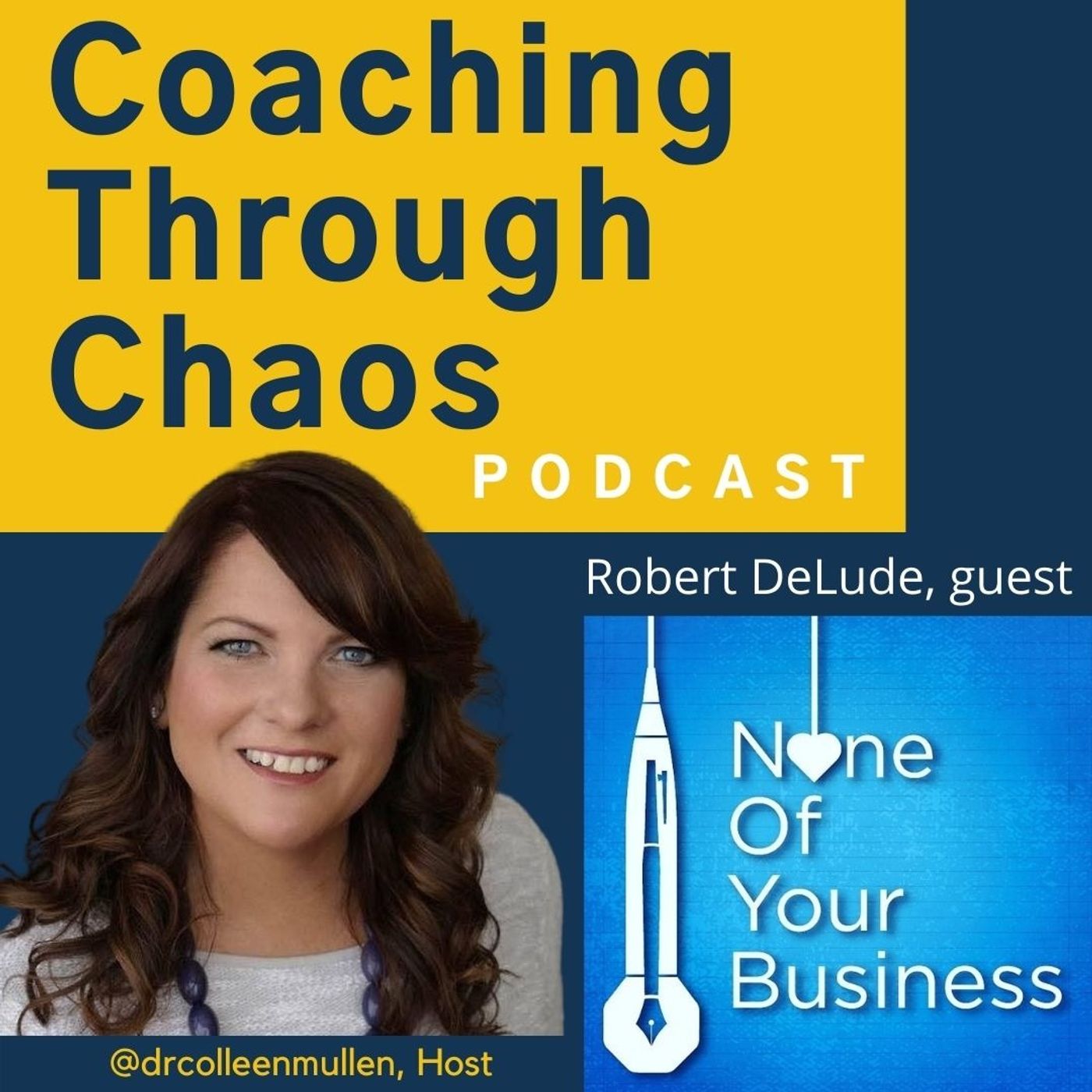 Robert Delude is the host of the None of Your Business Podcast, where he talks to his entrepreneurial guests about anything but their business (you can check out an earful I gave him about my own personal struggles and successes in an upcoming episode), but today, I flip the script on him to get him to talk about why he is so focused on helping others climb out of dark places in life. He shares his story of a chaotic childhood where he didn't think he fit in.  It was only when he first got high at 12 yrs old that he felt better.  This need to detach from his insecurities became a need to get high.  This quickly turned into a decade of selling drugs, toxic relationships and hiding his true self from anyone he knew. 
It was only when an older friend who got recovery took him under his wing was he really able to stay on a path through recovery. He is now forging ahead, feeling more confident, working on himself, fleeing from people who tap into his codependency or ignite his self-sabotaging.  
His story isn't finished, but it's an inspiration as to what can happen and how good life can be when you start to fight the dark emotions, keep sticking with what you know works, and allow others to care about you. 
You can hear Robert bring other people's stories of success to life on the None of Your Business Podcast on Apple Podcasts and anywhere else you love to listen! 
You can find Robert on the socials:
Facebook: RobertCDeLude
If you happen to be struggling with addiction, here are a couple of FREE  nationwide resources:
The Salvation Army Adult Rehabilitation Services
or Call 211 in your area to find local resources – rehabs, therapists, free groups and other outreach services.  If you're struggling, help is available. 
*************************************************
If you are enjoying The Coaching Through Chaos Podcast, and you want to stay connected and want to chat about the episode, just follow me at on Facebook  , Instagram  or Twitter. 
Check out what I've got for you over at Patreon.com/CoachingThroughChaosPodcast. That's where you can pick your own plan for supporting the show.  Their are 4 Tiers to pick from- and every level gives you some items you can only get when you subscribe! Maybe you want a 20-minute coaching call with me each month.  Maybe you want to "Ask a Therapist Anything" each month. Go check it out and see what I'm offering 🙂
Your best value is in Tier 2- The Chaos Crushers! For just $9/month, you will get:
A shout Out of Thanks on the show!
A Free e-book – "Five Ways to Tackle Almost Anything! 
Three exclusive Patreon-Only recordings just for you! These are essentially an entirely new podcast of self-help guidance that I am recording just for my @Patreon subscribers!!! 
For a fun take on life and love through the movies, you can join me and fellow therapist, Courtney Calkins at my other podcast   Shrink@Shrink .
You can buy the book: The 60-Day Plan for Embracing Your Inner Leader!   as well as the book of ALL the guests you've ever heard on the Coaching Through Chaos Podcast right on my Amazon Bookshelf! 
If you want to work with me for personal 1:1 coaching to help you conquer the chaos in your life, just reach out through CoachingThroughChaos.com click on the Contact page.
Keep kickin' that chaos out of your life! 
Thanks for listening!